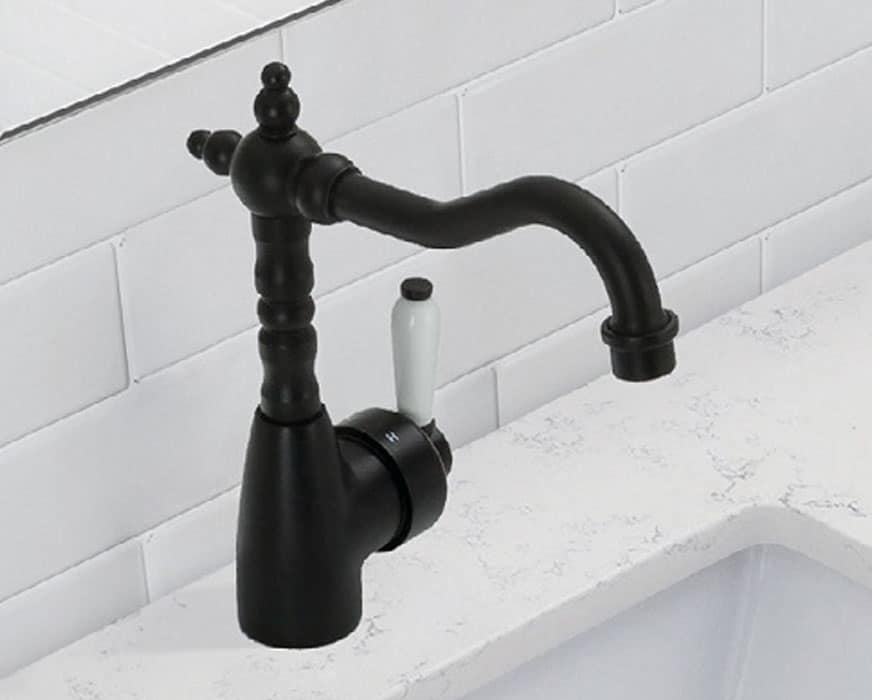 Bathroom Tapware
White Bathroom Co has been selling quality tapware in Sydney for over 25 years. Tapware is an integral part of your bathroom and will have years of constant use, so you need to make sure that it will stand the test of time! We stock top-quality, well-designed and reliable brands. Thanks to our passion for improving bathrooms, combined with our knowledge of the best bathroom tapware, Sydney residents can trust us to ensure their bathrooms reach their full design potential.
Styles
White Bathroom Co. has a range of styles for your bathroom, from traditional to modern tapware. Australia-wide, bathroom styles continue to evolve – both following and set apart from international trends. Whether it's the classic style of Armando Vicario's Provincial or the very modern Pura Vida from Hansgrohe, Sydney locals will find the look to suit their needs.
Tapware for basins
You have several tapware choices for basins and vanities. These days, the vast majority of people use a basin mixer, which either comes directly out of the basin or out of the benchtop. For vessel basins on top of the bench, you will need an extended (or vessel) mixer to reach over the bowl. Another choice is the traditional 3-piece basin set with a spout and the classic hot and cold bathroom taps. Sydney customers can find these available in either jumper valves (traditional washers) or ceramic discs. You may choose to have the taps come straight out from the wall for a less cluttered look; this is available whether you choose traditional tap sets or a bathroom mixer. Sydney homeowners, builders, and designers will find more options when they come to White Bathroom Co for their tapware needs.
Tapware for showers
Most people use a wall mixer for the shower. When you choose a wall mixer, the internal body of the mixer needs to go into the wall first, so you need to be organised and have this ready for your plumber/renovator.
Often, with older bathrooms, you may just wish to freshen it up with new taps. In this case, you will need to replace existing taps with something similar. At White Bathroom Co., we have a great selection of taps that will easily replace your older ones.
We also have a comprehensive range of shower heads, arms, and shower rails. Ask us which shower will best suit your bathroom.
Tapware for baths
Tapware for baths can add a stunning counterpoint to your bath, particularly if it is freestanding. Floor-standing bath spouts are currently popular for freestanding baths. We also stock a vast range of wall-mounted bath spouts that give the look of a waterfall or even swivel out of the way. With these, you can use a wall mixer or a wall tap set.
Tapware for kitchens

White Bathroom Co not only sells a range of tapware for the bathroom, but we also have a range of taps for the kitchen or laundry. Particularly useful are the taps with pull-out sprays (or vege sprays); they are handy in both laundry or kitchen.

Backed by guarantee

Our quality tapware gives you confidence in the quality, with some having up to a 15-year warranty. We are confident you will find the quality and protection you need to ensure many years of uncompromised usage in your bathroom, laundry or kitchen.

Get expert assistance

At White Bathroom Co, we have over 25 years of experience in the bathroom, ensuring that we have the expertise to provide you with exactly the bathroom products and accessories perfect for your home. With our knowledge and experience, we can supply the right bathroom faucets at the right price.
Brands – Hansgrohe & Phoenix Tapware in Sydney
At White Bathroom Co., we sell the best quality Australian and European brands such as Gessi, Hansgrohe, Armando Vicario, Faucet Strommen, Gareth Ashton, and Phoenix. You can feel confident that your investment will give you years of good service.
Selected thanks to their reputation for quality and reliability, White Bathroom Co. proudly stocks and sells Hansgrohe and Phoenix tapware for Sydney residents. By having White Bathroom Co improve your bathroom faucets, homeowners can bathe and wash in luxury at the twist of a tap.
Many of these great brands also make the kitchen taps Sydney customers can rely on to give their home a more unified look.
Our complete range of tapware brands and products include:
Aquas
Armando Vicario
Assisted Living
Basin Mixers
Bath Spouts
Faucet Strommen
Fienza
Fima
Gareth Ashton
Hansgrohe
Jamie J
Kitchen Mixers
Phoenix
Shower Heads & Arms
Shower Rails
Studio Bagno
Tap Sets
Wall Mixers
Black Colour Tapware in Sydney
Are you wanting to add undeniable class and a modern aesthetic to your bathroom while keeping costs down? At White Bathroom Co, we know that our diverse group of customers have wildly-different tastes in style and décor. With bathroom mixers in a range of finishes and stunning black tapware, Sydney residents can find exactly what they are looking for from our collection.
We have the colour of tapware Sydney homeowners have been searching for. Alongside contemporary brands setting modern trends, we stock antique gold or reimagined provincial black tapware to suit any bathroom style.
White Bathroom Co Gives You The Best Shopping Experience
Looking for bathroom tapware online? Well, White Bathroom Co brings the most stylish bathroom tapware in Sydney onto your computer screens and mobile devices. We have been supplying our bathroom accessories and supplies in this region for over 25 years now. Our products come with an assured warranty, and you can pick from a variety of options. But what about the shipping, returns and other aspects of shopping at White Bathroom Co? We have got them covered below:
It takes only a few minutes to add your favourite bathroom accessories to your list and request a quote for them.
Our team will get back to you immediately with a free quote for your bathroom supplies.
You can also visit us at our showroom and check out our collection of designer bathroom tapware.
Our shipping is quick and we never make any delays in delivering bathroom products in Sydney.
You can return our products as per the conditions listed within our Returns Policy!
To find out more about our bathroom tapware and faucets call us at (02) 9967 4488.