For over 18 years, White Bathroom has been making quality custom-made shower screens and mirrors, including popular frameless shower screens for Sydney. We provide: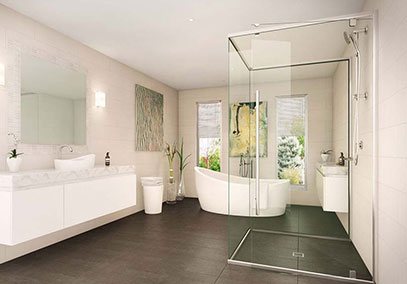 Custom Shower Screen
Quality Shower Screen
Frameless Shower Screen
Shower Door Seal
Frameless Shower Screen Sydney
Shower Screen Accessories
Glass Shower Screen
Shower Screen Strip
New Shower Screen
Shower Screen Sydney
Bathroom Shower Screen Sydney
At White Bathroom, we make quality custom-made shower screens from Australian glass. Thanks to our years of experience, you can rely on the quality of our bathroom shower screens – Sydney's widest range and best fit. If you buy cheaper bathroom shower screens in Sydney, you risk buying a low-quality product that will only need replacing sooner! To ensure that our shower screens are of the highest quality for our customers across Sydney, the team at White Bathroom craft superior and customised screens. With our bathroom shower screens, Sydney shoppers will find a more durable product that they can enjoy for years to come.
We always advise that our clients invest in the highest quality they can afford; the reason being that the higher the quality of a screen, the longer its service life will be. Of all the rooms in the house, the bathroom experiences the most wear and tear; it is constantly exposed to moisture and steam, which can quickly deteriorate inferior products. This means that buyers actually save money in the long term by investing in our premium quality bathroom shower screens for Sydney.
All shower screens under one roof
As one of the leading bathroom products sellers in Australia, we have a large selection of shower screens in Sydney, including the highly popular frameless shower screens. Sydney locals can rest assured that our custom-made shower screens use materials that are procured from reputable and high-quality manufacturers, resulting in the most durable screens on the market. In addition, we ensure the items are defect-free and designed to provide you with years of service life.
Having a wide selection of shower screens under one roof means that there is a lot to choose from. Regardless of what type of bathroom you have or what design you're looking for, you can bet that you'll find it with us.
Need a special one?
There are some people who may need a special type of screen: that is where our experience comes to the fore. We have the knowledge to make a shower screen that other companies can't. At White Bathroom, we have been providing custom screens for home and business owners for decades. Utilising innovative design methods and techniques, our custom-made shower screens are perfect for enhancing bathrooms across Sydney. Every screen is designed and precisely built to your specifications.
Frameless Shower Screens Sydney
Get the best shower screens in the business
Our team can also help you choose the right screen based on the type and size of your bathroom. Our years of experience can help you find something that works best for you regardless of your budget. So, it's always a good idea to get in touch with us whenever you are in doubt about what to get.
We are a leading seller of quality frameless shower screens for Sydney's many suburbs, and the one-stop solution for people who want their bathrooms to look the best. Our frameless shower screens for Sydney's bathrooms are aesthetically pleasing – perfect for creating a streamlined and contemporary design. Our team can design and fabricate high-quality frameless shower screens for homes in Sydney and around the Artarmon and Chatswood areas.
Our website shows you the variety of shower screens we offer. However, if you are looking to buy in bulk, need a screen delivered to your location, or have a question about our service then do not hesitate to call us on (02) 9967 4488 during business hours. You can also get in touch with us through our website's online form for almost any information you need or even if you need a quote for a bulk purchase.
Enclosed, Brushed, Black & Gold Shower Screen
Complete the look, feel, and layout of your bathroom thanks to the experts at White Bathroom. Not just an effective way to prevent splashed water becoming a trip or slip hazard, our shower screens come in a variety of styles and designs to complement your existing or desired décor. Boasting a wide range including black, gold, glass, enclosed and brushed shower screens Sydney homes can be enhanced by our detailed and durable products.
Explore our Shower Bases, Shower Walls, Custom Hinged Screens, Custom Pivot Screens, Custom Semi-Frameless Screens and Custom Sliding Screens now. You can also explore our full range of Pre-Made Shower Screens.
Available at affordable prices our shower screens come in differing dimensions and custom-sizing to fit seamlessly into your bathroom. For a free quote give us a call on (02) 9967 4488.