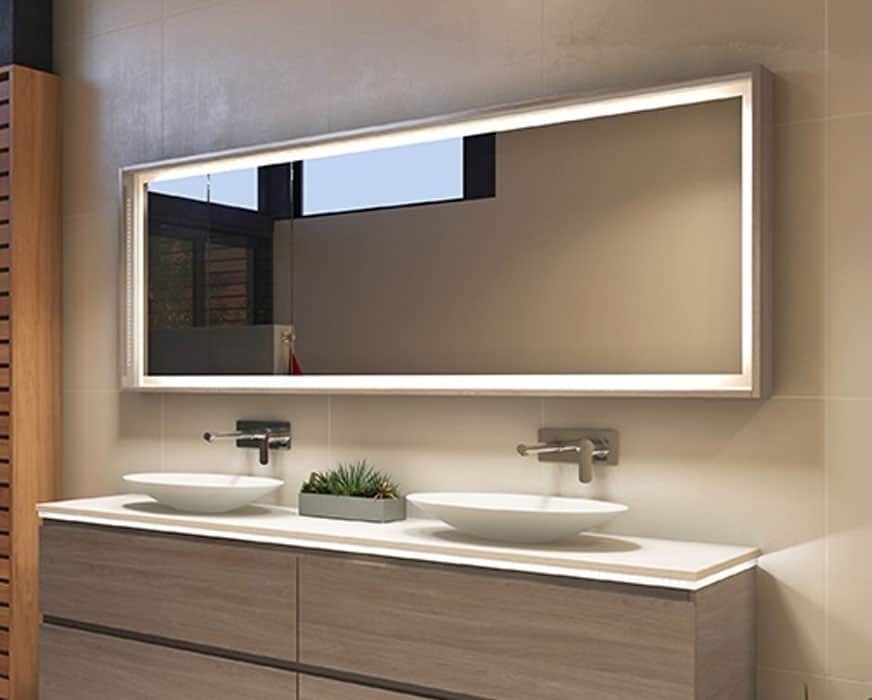 Mirrors are an essential part of your bathroom, and your choices are limited only to your imagination. We custom-make mirrors for every style of bathroom, ensuring we meet your preferences. You can choose from round, square or rectangular…large or small. Or you may choose to have a whole wall mirrored! Committed to delivering the most eye-catching and functional frameless mirrors suited for homes throughout Sydney, the team at White Bathroom can make your bathroom stand out and look modern thanks to our contemporary designs.
Frameless Mirrors Sydney
At White Bathroom, we offer Fully Custom and Semi-Custom/Pre-made Mirrors, as well as Small Mirrors and Innovation Mirrors. We also offer a range of Shaving Cabinets complete with mirrors to suit your storage needs.
Whatever you choose, there are many finishes available for your mirror. This includes silver, bronze or grey designs coupled with clear, frosted or textured glass. To learn more about the benefits of our range of mirrors, come and talk to us about your needs. We will create an individual design to enhance your new bathroom.
Whether you are after one of our pre-made mirrors, or one of the best custom made mirrors in Sydney, call us on (02) 9967 4488 today to discuss your mirror requirements.